Premium-quality Cleaning Services Beaconsfield HP9
Serving HP Customers Since 1998
A team of highly qualified Beaconsfield cleaning experts
What Can We Do For You?
Hot water extraction for carpets and rugs
Regular housekeeping and one-off domestic cleaning
Move-out and end of tenancy cleaning
Home and commercial window cleaning
Office cleaning and maintenance
After-builders clean
Upholstered furniture, mattress, and curtain cleaning
Spring cleaning
Oven cleaning
Gutter cleaning
Patio and driveway cleaning.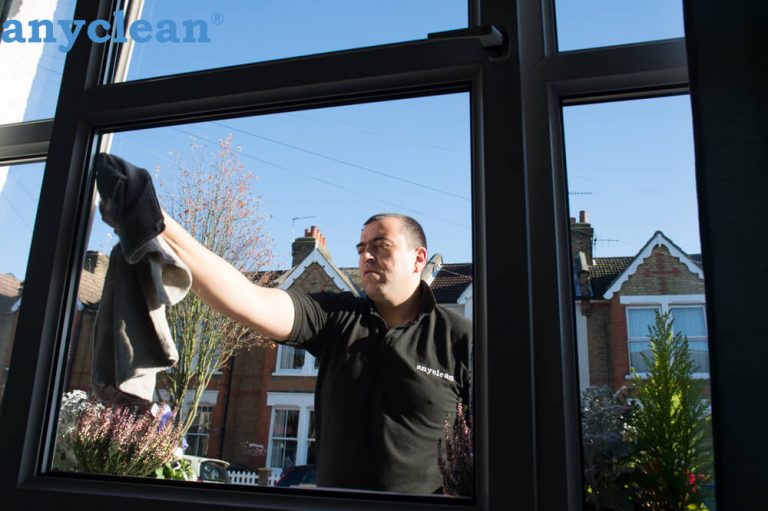 How Much Does It Cost
Cleaning Service
Price
Domestic cleaning
from £15.00 p/h
Carpet cleaning (per room)
from £20.00
End of tenancy cleaning
from £105
Window cleaning
from £4 per window
Professional Oven cleaning
from £45.00

Prices exclude VAT. Congestion charge and parking fees (if applicable) may apply.
The Benefits Of Choosing Anyclean
More than twenty years of professional experience
A team of highly skilled and knowledgeable technicians
Non-stop availability - including Bank and National Holidays
Competitive prices
100% customer satisfaction guarantee
Hassle-free experience
A wide range of cleaning services
Multiple payment options
No long-term or binding contracts
Top-brand cleaning equipment (Ionic, Karcher, Rotovac)
A bullet-proof Public Insurance and Liability Policy
Free quotes available 24/7 for all services
Multiple payment options.
Revive the colour and beauty of your carpets with the most effective carpet-care service in Beaconsfield! Top-quality results for the money you pay - guaranteed!
Provided by a team of friendly and result-oriented maids, our one-off and regular home cleaning packages will eliminate the hassle and anxiety of dealing with all home chores.
From squeegee polishing of small home windows to large-scale commercial polishing, cladding, and UPVC washing - Anyclean offers the most detailed portfolio in HP9!
Instant Quote
End Of Tenancy Cleaning Beaconsfield
You have no idea how to deal with all your landlord's requirements for the post-tenancy cleaning? Don't worry - Anyclean has helped HP9 tenants for over two decades!
Office Cleaning Beaconsfield
Entrust the hygienic upkeep and cleaning maintenance of your office premises to the leading specialists in the field! Contact is on 020 7099 6964 for free quotes and bookings!
Gutter Cleaning Beaconsfield
When was the last time you de-clogged your roof pipes? Anyclean's gutter cleaning service provides excellent long-term results for a reasonable fee!
Our Latest Cleaning Appointments In Beaconsfield
Front yard pressure washing at Candlemas Lane, HP9.
One-off deep-clean house treatment at Wattleton Road, HP9.
Upper-floor Reach & Wash polishing at Aylesbury End, HP9.
Emergency post-tenancy cleaning at Maxwell Road, HP9.
Local Leaders In Cleaning
Anyclean Is Your Trustworthy Cleaning Partner
Have you ever considered how much time you waste in cleaning? And we do not mean the regular chores like doing the dishes, laundry, or vacuum cleaning - you have to spend hours after hours on window polishing, keeping your backyard and garden in good shape, and spring cleaning. And things become even more pressing if you run a business - then the daily tasks pile up exponentially on top of other managerial issues.
The fact of the matter is simple - you do not have the time to effectively deal with all these tasks. Anyclean offers you a hassle-free and affordable alternative - taking advantage of our comprehensive portfolio of first-class cleaning services. Whatever the job is, we can find a quick and lasting solution - we cooperate with some of the leading local specialists in carpet, window, and home cleaning. Anyclean can also offer you a bevvy of specialised services like oven and restaurant kitchen cleaning, gutter cleaning, patio and driveway washing, and waste disposal.
The company was founded in 1998 by cleaning entrepreneur Nick Vassilev and has since solidified its reputation as one of the leading all-round cleaning contractors in London. In the past few years, however, we have expanded our area of coverage beyond the M25 perimeter, Beaconsfield being a top priority on our list. A multitude of local homeowners and business managers have already trusted us with various cleaning and maintenance tasks. If you want to join the family of satisfied Anyclean customers, give us a call on 020 7099 6964, and let's find out how we can be of service!
Our customers want to know...
Should I hire someone to clean my house?
If you feel like you can deal with the home chores and you have no problem with cleaning, the answer should be no. If, however, you think dusting, sweeping, and polishing is a total waste of time or you are overburdened by professional or family duties - book a cleaner right away. First of all, professional cleaners are much more effective and quicker in the sanitary treatment of residential premises. Second, today's rates of domestic cleaning in London are perfectly reasonable, so you do not have to spend a fortune to keep your home clean.
Professional Accreditations