First-class Cleaning Services Walton-on-Thames KT12
Serving KT12 Customers Since 1998
Affordable home and commercial cleaning in Walton-on-Thames
Our Offer At A Glance
One-off domestic cleaning and housekeeping services
Carpet washing and hot water extraction
Commercial and domestic window cleaning
End of tenancy and move-out cleaning
Office cleaning
Area rug cleaning
Upholstered furniture and curtain cleaning
After-builders clean
Waste disposal
Oven cleaning
Gutter cleaning
Patio and driveway cleaning
How Much Does It Cost?
Cleaning Service
Price
Domestic cleaning
from £15.00 p/h
Carpet cleaning (per room)
from £20.00
End of tenancy cleaning
from £105
Window cleaning
from £4 per window
Professional Oven cleaning
from £45.00

Prices exclude VAT. Congestion charge and parking fees (if applicable) may apply.
Why Should You Book Us?
100% customer satisfaction guarantee
All services available seven days per week
Competitive prices and special offers
No long-term or binding contracts
No hidden fees or contract charges
A team of highly skilled and experienced cleaning experts
Top-brands professional equipment (Karcher, Ionic)
Friendly and helpful customer support team
A comprehensive public Insurance and Liability Policy
Free quotes available 24/7 via email and phone
Same-day and emergency cleaning services available.
Get rid of the dirt, stains, and mould spots with no effort - book Anyclean's carpet washing for immediate results! We serve both domestic and commercial customers.
One-off home cleaning and regular housekeeping services of the highest quality, provided by a team of fully insured and reliable domestic cleaning specialists.
Anyclean's glass-care procedures set the standards for quality in window washing! From the smallest light tubes to large-scale window displays - we are the top choice!
Instant Quote
Our crews will perform the kind of deep-clean that will impress even the most demanding of landlords! Book your post-tenancy cleaning procedure in KT12 today!
Office Cleaning Walton-on-Thames
Outstanding cleaning performance, attention to detail, and professional attitude - trust the most reliable Walton cleaning contractror with upkeep of your office.
Gutter Cleaning Walton-on-Thames
Operating with the SkyVac gutter cleaning equipment, the Anyclean technicians guarantee instant de-blocking and thorough removal of junk, debris, and rotten leaves.
Most Recent Cleaning Jobs In Walton-on-Thames
Specialised restaurant kitchen and oven cleaning at Hepworth Way, KT12.
Monthly commercial window washing and facade maintenance at High Street, KT12.
One-off domestic cleaning at Winchester Road, KT12.
Post-tenancy deep-clean treatment at Esher Avenue, KT12.
Anyclean's Area Of Coverage
Anyclean - The Perfect Cleaning Choice In KT12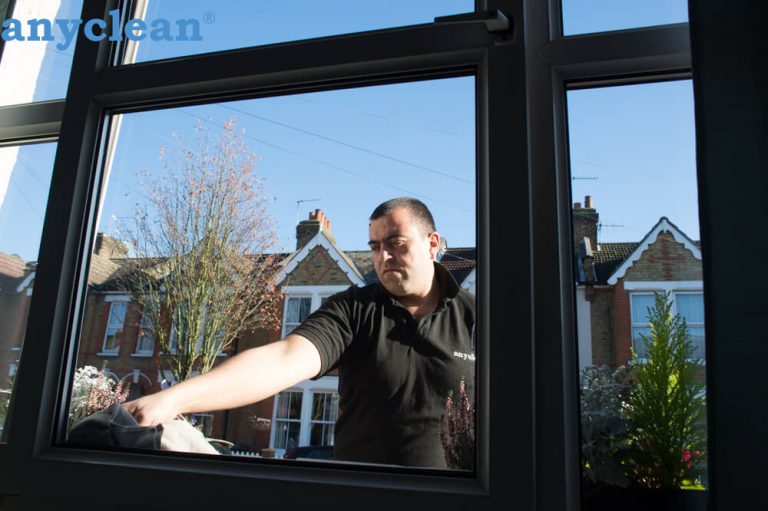 A growing number of London-based cleaning contractors are now available in Walton-on-Thames - local KT12 homeowners and business managers have never had so many service options to choose from. So why should you prefer Anyclean? What makes us stand out from our competition?
Anyclean is not the kind of company you could call a "one-day wonder". We began our journey in the world of professional cleaning in 1998, more than twenty years ago. The lessons we have learned and the acquired experience have helped us understand what customers want and how to deliver it. Let us give you a few examples:
When you book a cleaning contractor for whatever service, you look for a reliable, hassle-free partner, not an extra burden on your already packed schedule. The Anyclean technicians are skilled, knowledgeable, and result-oriented - they rarely require additional guidelines and can notice a cleaning problem right away. In most cases, they will need only a couple of minutes to decide on the most proper solution.
You need a cleaner that will not waste your time. There will be no late arrivals or delays if you book us. We respect your time as much as we value our own.
You want to get as much information as possible before you make your choice. Anyclean is second to none in this regard. We not only provide you with various details on our webpage, but we are will to discuss any aspect of the service on the phone or in person.
But let's not waste your time any further - the only way you can assess our efficiency is to see us in action. You can book an appointment with us for every day of the week (including Bank and National Holidays) on 020 7099 6964.
Professional Accreditations
Frequently Asked Questions
Q: How many days a week are you available to clean?
A: Every service is available seven days a week and our customers are never charged extra on Sundays or Bank Holidays. Properties situated in Central London benefit from our flexible working hours thus saving money on congestion charges and expensive parking fees.
Q: When did you start in the London cleaning industry?
A: It has been a long journey since 1998. We are proud to have been servicing clients in Greater London for that long. Gathering that much of an experience is a huge advantage that we use on a daily basis.
Q: Do I have to sign a minimum term contract?
A: There is no minimum term contract for using our services. We don't want you to pay money to us just because of a contract and not for receiving quality service. Most companies will require a minimum term contract to be signed because this is an insurance policy in their benefit regardless of the service they provide. That is not the case when using Anyclean. You can terminate the cleaning service providing the standard 30 days advanced notice in writing. No questions asked.


Q: Do I have to pay anything when I go away for a couple of weeks?
A: No. You don't pay a penny. You only pay when you use our cleaning service. We require 24 hours notice before you go away, the date of your last visit before you go and the date of your first cleaning when you are back.​​​​​​​